Cardina Shire Business Awards
Posted on August 11th 2013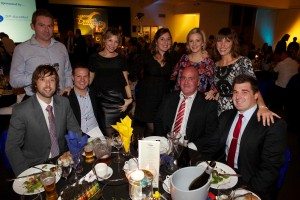 Each year the Cardinia Shire Business Awards recognises the best of the best in small and big business across a broad range of categories. Think The Oscars for Cardinia based business.
To be nominated within any of the categories a business must be seen to strive for excellence, go above and beyond industry standards, hold an impeccable reputation and be passionate about their brand.
Well, tick, tick, tick and tick for Smart Homes.
We are both humbled and extremely honored to have been nominated in the category of 'Property, Trades & Construction' at this year's awards due to our supreme workmanship, customisable designs and company ethos to ensure 100% customer satisfaction across all that we do.
In a recent interview for the Pakenham Gazette Smart Homes was described as "passionately guiding clients through the home building process from start to finish, helping them to realize their home building dreams" and we believe that this is exactly what we do.
Not only did the awards night provide a chance to grab a great feed (see photo) with some other dynamic businesses from across the region but it was an opportunity for our team to reflect on the work and passion we pour into Smart Homes every day in our commitment to offering a customised and quality new home experience for our clients.
It may be a little cliché (think celebrities thanking their fans while holding an award) but it really drove home to us an idea that we have built our business around and that is the importance of you, the client.
It is our clients, their dreams, vision and ideas that really make us special. Each home we build is unique in that we work with you to create a home that reflects you and your family based on style, location, budget and lifestyle.
We thought we would take this opportunity to share a testimonial from one of our wonderful clients Jessica McMahon.
"As a single person wanting to build a house it is simply impossible to incur unexpected costs. Smart Homes allowed me to build a custom built home and make alterations where required. They allowed me to purchase my bathroom accessories and tiles through a company not currently used by them. I am so grateful to Travis Robbins and Jake Hills for making the process of building my house so enjoyable. I would happily recommend Smart Homes to anyone wanting to build a house anywhere. Their honest and helpful approach always made me feel welcome and allowed me to achieve my dream".
The team at Smart Homes would like to formally thank Jessica and all of our brilliant clients for allowing us to share in their vision while living out our dream of creating quality, customised heritage style and cottage homes across Victoria.  Thank you also to the Cardinia Shire Business Awards for this year's nomination and congratulations to Greenview Accounting for their big win.
For more information on the awards visit http://www.cardinia.vic.gov.au/page/Page.aspx?Page_Id=1241