Gas or Wood Fireplace?
Posted on December 17th 2013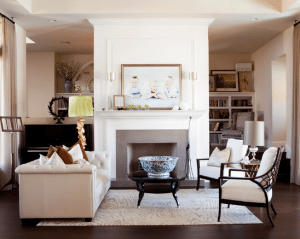 The Great Debate… Gas or Wood Log Fire place.. ?!
 So I know we've just come into summer, but your home needs to see you through all the seasons!
Today we are discussing the good 'ol' fireplace and the benefits of gas over wood log.
Much like last weeks blog about Hardwood Vs Laminate flooring… both have their pros and cons, but with todays technology gas is the way to go.
Gone are the days of flickering blue flames and ridiculously fake looking logs. You'll be surprised at the incredible advances in the technology of the gas log fire. They may not give you the crackling sound of melting sap or the smell of a burning log, but they definitely win out the prize for most maintainable and clean form of fireplace. At the flick of a switch you can have a realistic, long burning fire that will actually throw out a more sustainable and consistent heat.
Here at Smart Homes we use Rianni gas log fires
http://www.rinnai.com.au/heating/gas-log-fires/
. They have a large range of inserts to choose from and can be placed in any room of the home. They can also be installed in existing fireplace cavities or even in place of your old heater!
So how cost effective are they to run…?
Gas log fires on average cost around 32 cents an hour to run.. now when you compare that to the cost of buying, transporting and potentially having to cut your own wood… We think we all know which is more convenient.
Not only are they cost efficient, a good quality gas log fireplace can in fact heat multiple rooms in your home.
Visually, gas log fires are just as mesmerising as the real deal. Just because you've got yourself an installed unit, doesn't mean you can't now jazz it right up with a stylish hearth or rustic mantel! This is where your creativity and inner designer can step up to the plate and tailor your new fireplace to your home. Hearths can be purchased and installed separately. You can pick up some great finds at Early Settler, or speak to your builder (if your doing a new build) and they will be able to give you all the advice you need on the right fireplace and look for your home.
Image Credit: Alice Lane