The bathroom
Posted on December 4th 2013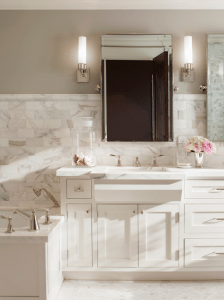 So, it's used every morning, every night and by every member of the household!
The bathroom needs to cater to so many needs, so of course – most importantly, it needs to be functional!
We're going to run through some design aspects of a modern bathroom, that are not only functional, but look good.
From tap ware to basins, tiles to shower screens, the list of fitting out a bathroom is endless!
But, first you need to tackle the layout. Make sure you are clear with your builder from the beginning.
The layout and size of your bathroom should be designed around you and/or your families intended use…
Do you want a bath, or just a shower? How big do you want the shower to be? Do you need double basins? Do you want to toilet separate from the main bathroom? Do you want built in cupboards to store towels etc?
These are just a few simple questions you need to ask yourself before the slab goes down!!
Once the boring stuff is sorted… you can move onto fixtures and finishes.
Choosing tiles is the fun part! It sets the mood/style for the entire bathroom.
These days, the range of tiles available can be daunting. I find it's best to stick to a neutral colour pallet, this allows you to really bring the colour theme in through the use of accessories and towels – and allows you to change it up if you get bored!
So choose a colour that complements the rest of your house, but has a neutral base. If you do want something with a little flare, pick a tile with a grain or change in tonal value… like a white and grey marble, or a beige and white stone.
The size of your tile is another important factor. If you're working with a smaller space, don't be afraid to use BIGGER tiles. They can actually create the illusion the floor space it larger than it really is!
So, I could go on all day about tiles… but these are just a few tips to get you started.
Next you want to think about your vanity, toilet and bath (if you're having one). You can pick up some really nice bathroom suites these days, that include matching toilets and basins and even matching baths.
For spaces like a powder room, pedestal basins are a classic and classy choice. They use minimal space and are perfect for their intended use. As for the family bathroom.. storage is key! Believe it or not, people often overlook storage when it comes to design.
If you still want the look of a free standing basin.. one trick is the use of an above mount sink. This basically means the sink sits on top of the vanity counter and doesn't need to be cut into the unit below (also creating more storage space). This is a popular, modern design choice and with the sink options available, it can even become a feature piece.
Free standing baths are another popular trend, that also help in creating the illusion of more space. No longer do we need bulky built in bath units. We have stylish free standing baths! And for the shower lovers… forget doors and shower bases. The use of large panel glass and tiled shower bases, not only minimises places for grime to stick and rubber door seals to dis-colour, it creates a tranquil walk in space that blends seamlessly into any bathroom.
The final touches in a bathroom, are key.
Flick mixers are a poplar choice in bathroom design at the moment. Rather than trying to adjust the hot and cold taps at the same time to get the right water temperature… you have the middle ground flick mixer. Gone are the days of your stock standard round shower head, look at rainfall shower heads, height adjustable shower heads and if you're really going all out… why not have two showers heads!
Honestly, the list for fitting out a bathroom could go for days. So again, you really need to ask yourself from the beginning, What do I need? and what is going to be functional for me and my family? If you're clever about planning your bathroom from the get go, you will thank yourself later!
Image Credit: Paul Dyer Photography